Starter
⭐️ Donor ⭐️
GIVING DAY 2023
Now that the 2021/22 season is over - we can look forward to November of 2022 and the start of the 2022/23 season.
A-10 will expend to 15 teams when Loyola-Chicago joins the conference. A common thread may be the upgrade in coaching, bringing an upgrade in talent which hopefully leads to an upgrade in the overall qhality of the conference and potentially a solid 2 bid-3 bid conference plus another 2 teams to the NIT. 5 teams/ 1/3rd of the leguue in the first 2 post season conferences.
I suspect that the A-10 will keep the 18 game unbalanced schedule, leaving each team about 12-14 games to fill in non conference. the 15 team league brings some new and novel scheduling options that i hope the league will consider.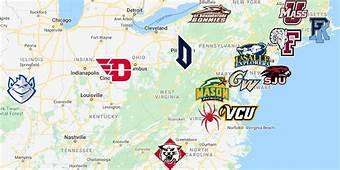 split the league into 3 divisions by geography
A10 South - GMU, GWU, vcu, Richmond, Davidson
A10 West - Loyola-Chicago, St. Louis, Dayton, Duquesne, St. Bonaventure
A10 North - UMass, Rhode Island, Fordham, LaSalle, St, Joes
Scheduling -
within each division play a home and away - 8 games
Play one division all at home - 5 games
Play the other division all away - 5 games
Then alternate each year/season
9 home games, 9 away games
Optimize/MInimize travel distances and times by scheduling road games in pairs by proximity, with the understanding that everyone in the A10 West will be a long haul
Helps to create/strengthen/increase Regional Rivalries
Bigger footprint for the league - geography, population, tv markets, recruiting
Cons -
A10 West may have the better teams while A10 North may have the weakest - but that may change over time
Some players may spend significant time on the road and away from classrooms - make sure each player has a laptop and a way to attend virtual classes while traveling
Standings still tracked as one 15 team league - but conference SoS will vary
Comments? Criticisms?
Last edited: